Welcome to YA Scavenger Hunt! This bi-annual event was first organized by author
Colleen Houck
as a way to give readers a chance to gain access to exclusive bonus material from their favorite authors...and a chance to win some awesome prizes! At this hunt, you not only get access to exclusive content from each author, you also get a clue for the hunt. Add up the clues, and you can enter for our prize—one lucky winner will receive
one signed book from each author on the hunt in my team
!
But play fast: this contest (and all the exclusive bonus material) will only be online for 72 hours!
Go to the YA Scavenger Huntpage to find out all about the hunt.
There are eight contests going on simultaneously, and you can enter one or all! I am a part of the
ORANGE TEAM

—
but there is also a blue team, a red team, a gold team, a green team, a pink team, a purple team and a teal team for a chance to win a whole different set of signed books!
If you'd like to find out more about the hunt, see links to all the authors participating, and see the full list of prizes up for grabs, go to
the YA Scavenger Hunt page
.
Directions: Below, you'll notice that I've listed my favorite number. Collect the favorite numbers of all the authors on the blue team, and then add them up (don't worry, you can use a calculator!).
Rules: Open internationally, anyone below the age of 18 should have a parent or guardian's permission to enter. To be eligible for the grand prize, you must submit the completed entry form by October 4th, at noon Pacific Time. Entries sent without the correct number or without contact information will not be considered.
Today, I am hosting
MARTINA BOONE
for the YA Scavenger Hunt!
Martina Boone spoke several languages before she learned English after moving to the U.S. She has never fallen out of love with words, fairy tale settings, or characters who have to find themselves. She is the author of Compulsion, the acclaimed first book inthe Heirs of Watson Island trilogy. with Persuasion releasing 10/27/15. She is also the founder of AdventuresInYAPublishing.com, a Writer's Digest 101 Best Websites for Writers site, the CompulsionForReading.com book drive campaign for underfunded schools and libraries, and YASeriesInsiders.com, a site devoted to the discovery and celebration of young adult literature and encouraging literacy through YA series. Locally in her home state, she is on the board of the Literacy Council of Northern Virginia, helping to promote literacy and adult education initiatives.
***EXCLUSIVE CONTENT has been removed. The hunt is over.***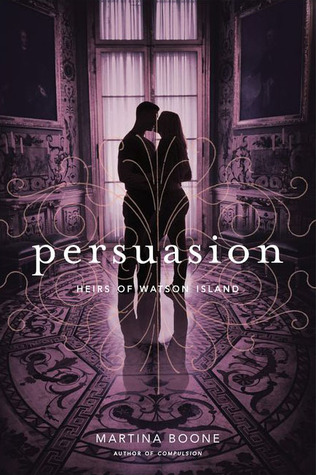 Romeo and Juliet meets The Raven Boys in the spellbinding second novel in the Heirs of Watson Island trilogy that "skillfully blends rich magic and folklore with adventure, sweeping romance, and hidden treasure" (Publishers Weekly, on Compulsion).
Grieving the death of her godfather and haunted by her cousin Cassie's betrayal, Barrie returns from a trip to San Francisco to find the Watson plantation under siege. Ghost-hunters hope to glimpse the ancient spirit who sets the river on fire each night, and reporters chase rumors of a stolen shipment of Civil War gold that may be hidden at Colesworth Place. The chaos turns dangerous as Cassie hires a team of archeologists to excavate beneath the mansion ruins. Because more is buried there than treasure.
A stranger filled with magic arrives at Watson's Landing claiming that the key to the Watson and Beaufort gifts—and the Colesworth curse—also lies beneath the mansion. With a mix of threats and promises, the man convinces Barrie and Cassie to cast a spell there at midnight. But what he conjures may have deadly consequences.
While Barrie struggles to make sense of the escalating peril and her growing and forbidden feelings for Eight Beaufort, it's impossible

to know whom to trust and what to fight for—Eight or herself. Millions of dollars and the fate of the founding families is at stake. Now Barrie must choose between what she feels deep in her heart and what will keep Watson's Landing safe in this stunning addition to a series filled with "decadent settings, mysterious magic, and family histories rife with debauchery"

(Kirkus Reviews, on Compulsion).
And don't forget to enter the contest for a chance to win a ton of signed books by me, Ashelyn Drake, and more! To enter, you need to know that my favorite number is
8
. Add up all the favorite numbers of the authors on the
orange team
and you'll have all the secret code to enter for the grand prize!
To keep going on your quest for the hunt, you need to check out the next author
SANDRA WAUGH
.